If you want to relax and enjoy life away from the busy cosmopolitan traffic-full environments, and at the same time, indulge yourself in some interesting activities, here are some things we recommend during your stay in Birgu.


- Go down to the Waterfront by night and admire the super yachts.

- Spend an evening at the Casino di Venezia.

- Dine out at one of Birgu's fine restaurants on the waterfront

- Enjoy a casual evening out at one of Birgu's typical wine bars, set in traditional city dwellings typical of the area.

- Cross over to Valletta on one of the small Maltese harbour gondolas, and enjoy the restaurants and shops at the Valletta waterfront and state-of-the-art cruise liner terminal.

- Visit the Maritime Museum, housed by the Waterfront in the former British Naval Bakery. This Bakery used to supply bread to the entire British Mediterranean Fleet for over 150 years!

- Visit the Inquisitor's Palace - learn about the Inquisition and also Malta's religious traditions. You will be surprised to discover that two of Birgu's Inquisitors went on to become Popes later on in the Holy See in Rome!

- Mingle with the locals at the city's band club, situated in the main square.

- Enjoy a pleasant walk to the quaint neighbouring town of Kalkara and visit the spectacular Fort Rinella, where you will find daily re-enactments of the firing of a 100-tonne gun, dating back from the British period.

- Try your luck at the Birgu antiques market on a Sunday morning.

- Visit the flea market on a Tuesday - here you will find anything from fruit and vegetables, herbs and spices, clothes and other interesting bric-a-brac! And you can haggle…

- Visit the impressive Fort St. Angelo, which today houses the headquarters of the Sovereign Military Order of Malta - the Order of the Knights of St. John. It was from here that the great Master Caravaggio escaped to Naples after his short-lived adventure on the island.

Out and About…
The good thing about staying in Birgu is that you are away from the mainstream, busy tourist areas, but at the same time close enough to visit anytime you want. With Valletta being only some 10 kilometres away - 15 minutes by bus and only 5 minutes away by boat, access to the rest of the island is very simple.

The Closest attractions to Birgu…
Senglea - the Gardjola.
Tarxien - Tarxien Temples, Hypogeum.
Marsa - Marsa Sports and Country Club - golf course, squash courts, tea rooms
Marsaxlokk fishing village.
Zurrieq - Blue Grotto, boat rides and prehistoric temple sites of Hagar Qim and Mnajdra.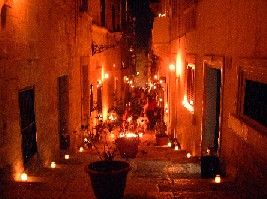 Birgu by Night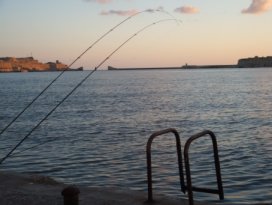 Fishing at Birgu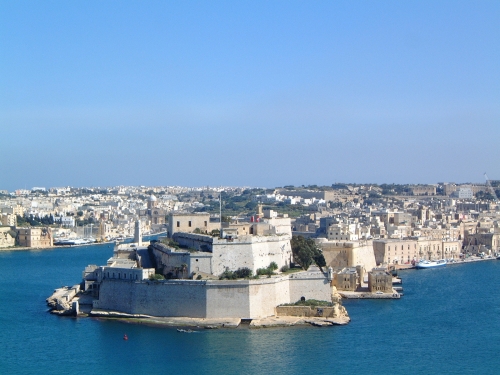 St. Elmo
Birgu Streets